My Team
When you became my client, you placed your trust in me to help make your vision a reality. I honor that trust with the help of my expert support staff. Together, we make a strong commitment to customer service.
If at any time you have a question, concern or need, please let us know.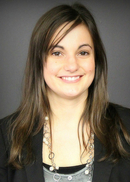 Julia A Parker
Associate Financial Representative
Office 419-407-8648

Julia Parker resides in Holland, Ohio. She received her Bachelor's degree in Finance and Business Pre-Law from Ohio University in 2010. In her spare time, she enjoys reading, gardening and spending time with her husband Travis, and son, Colton.
Julia is the Associate Financial Representative and is responsible for answering basic client questions, processing and monitoring funding of insurance, investment and advisory account and asset transfers, preparing and processing all applications and paperwork for insurance, investment and advisory accounts, and overall office operations management.
Samuel P Sander
Director of Marketing and Communications
Office 419-407-8120